In June, Access Capital, a leading independent lender to the staffing industry, announced it named Terry Keating chief executive officer. Recently TSL Express' senior editor met with Keating to discuss how his career trajectory helped prepare him for this role, his goals and responding to some of the challenges the industry is experiencing.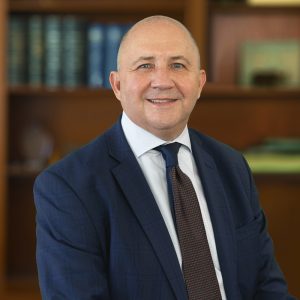 TSL: Congrats on your new role! Please provide our readers with some background on your career.
Terry Keating:  I'm an accidental finance guy. I started college as a history major, thinking I would be an archaeologist or anthropologist, but I figured out that's not very lucrative. I ended up with a degree in economics and took a summer job working for a bank in the smaller city of Valparaiso, IN, where I attended college.  That turned into a full-time job. During the recession of 1981, when I graduated, the prime rate was 21 percent. So, anyone who worries about rising interest rates now, relax; it can be a lot worse.  I spent three years there, then went to a larger bank in Chicago called UniBancTrust and spent three years there.
After three years, Unibanc was being sold; I left and ended up at LaSalle Bank in Chicago, where I spent 18 years.  A couple of years in, I talked to my boss about career development and how I wanted to differentiate myself and had the idea of lending money to finance companies.  My thought was twofold.  First, not many banks lent to them, so there was less competition.  Second, when they're successful, finance companies borrow more money because they grow. It was a match made in heaven.
I worked for some extraordinary people at the time who said, great, take the next six months, give your portfolio to somebody else and figure this out, and we'll sit down in December and figure out a strategy. Well, it was ten years before we finally wrote a formal strategy because the business took off immediately and was growing.
We built a successful specialty industry practice for the bank, lending money to commercial and consumer finance companies, leasing companies, and mortgage banks. So, that's how I got to know this ecosystem. And, after 15 years, it had become a mature, steady business in the bank. One of the things I've learned about myself over my career is that I'm better at growing and building things than running steady-state businesses.
In 2005, I left the bank after 18 years and spent a couple of years doing consulting on my own.  My parents were older at the time and ill, which gave me the flexibility to spend significant time with them, which was important to me.
Next, in 2009 I joined a small Detroit-based boutique investment bank. I was at their Chicago office, building the practice and delivering investment banking, turnaround, and general consulting services primarily to finance companies.  I worked for some terrific folks, learned a lot, and had fun doing it.
Then early in 2014, I was calling on the then CEO of Accord Financial, Tom Henderson, pitching M & A ideas to him, and he said he was inclined to hire me to do some buy-side work, but first needed to figure out an executive dilemma – hiring someone to run their U.S. business. I said to Tom, "Okay, I'll call you in a couple of months, but gee whiz, thanks for not asking me," I thought I was being funny, and he said, 'Well, I didn't think I'd get a 30-year, downtown, high-rise Chicago guy to think about moving to South Carolina.' I wasn't looking for a job; I thought I was kidding around with him. But there was a pause, and he asked. I was a bit surprised, but went home and spoke to my then fiancé, now wife, Brenda, and we thought it was a great career opportunity; three weeks later, I moved to Greenville, SC, and she followed me three months later. We spent seven years there growing, building, and transforming the business. After seven years of a lot of change, it was time for me to move on.
So, I left last summer, began doing some consulting again, and joined a board of a distressed company, which was pretty interesting and exciting.  Then in the fall of 2021, I was contacted and began interviewing for this position at Access Capital.  Following a lengthy and very thorough process, I was selected and joined on May 16, 2022. My wife and I relocated to New York City four days earlier.
TSL: How has the transition been moving from South Carolina to New York City?
Keating:  For us, it's been an effortless transition. We're used to and enjoy a big, vibrant city environment after all those years in downtown Chicago.  I had one opportunity early in my career before I embarked on the finance company world to come to New York, which I didn't take at the time and always regretted. So, somewhere in the back of my mind, it was always a dream to be here. Despite the changes in where finance is in America, New York is still the biggest concentration, and to be in New York City leading a financial services firm, really is living my dream.
TSL: Access Capital was founded in 1986 by Miles Stuchin and his wife, Marcie, who still serves on the Board of Directors. Can you provide some background on the history of Access Capital and the Stuchin family's involvement in the company today?
Keating:  Miles was an attorney in the 1980s who had very strong entrepreneurial leanings. In fact, he was part of founding several other companies and was on the board of companies outside of the finance world.  but he had the idea that entrepreneurs should be able to borrow from entrepreneurs. That was the kernel of an idea that became Access Capital. It was founded in an apartment on New York City's Upper West Side.  It was the New York equivalent of starting a business in the garage. They then moved to another apartment as they expanded and eventually moved to Park Avenue, where Access is based today.  Miles, unfortunately, passed away in early 2020 after a long struggle with an illness. However, today's business still reflects that entrepreneurial spirit in who we serve and how we operate the business. The Stuchin family still owns Access Capital. Marcie, her son, Blake, and her son-in-law, Stuart, are all on the Board. They have been a delight to work for.
The family's financial and emotional commitment to the founding concept was compelling to me as I went through the interview process, as well as one of the other defining principles of the Stuchin family, which is giving back. In the mid- '90s, they founded the Access Capital Foundation, which supports a wide variety of organizations, including healthcare, education, social welfare, and the arts. Over the years, the Foundation has given away over $10 million and is still going strong.  That said a lot about the character of the family that owns the business I would be working for and the people here who reflect those values. It was a significant component of the final decision to come here.
TSL:  How has your previous career experience helped prepare you for your new role as CEO?
Keating: My years as a banker taught me the value of relationships with our clients and differentiating products and markets. Commercial finance is often characterized by short relationships, more of a transactional business.  Access is immensely proud of the length of our relationships with our clients. Then as I moved on and was a lender to the industry, it gave me a deep sense of the industry's breadth and what it took to develop a new sector. I had the opportunity to focus on an industry niche and look closely at industry best practices. I was able to be "inside" and review 600 or 700 companies over my years and see which ones operated well, which ones didn't perform well, and what the common themes were.
In addition, while I lived in Chicago, I spent 25 years on a social welfare agency board. I had every job on that board, serving as board president and treasurer for over 12 years. I learned a lot about organizational leadership there.  We rebuilt the board twice and had significant crises along the way.
Then, as an independent consultant, I got to spend a lot of time working on strategic transitions, organizational development, and succession planning for organizations.
When I worked as an investment banker, I had got firsthand experience with how buyers and investors look at the value of an organization as being directly influenced by best practices.  Of course, the turnaround advisory work that I have done gave me a good sense of recognizing and resolving crises, a skill set unto itself. As a lender, hopefully, you don't have to use that very often, but it's great to have some firsthand knowledge if you have to.
Last, in my years as an operator at Accord Financial, I had a chance to get in deep into the daily operations and help grow and transform an organization. Every stop along the way has helped bring together all the skills that I need today.
TSL: What are your goals as CEO of Access Capital?
Keating: It's pretty simple–building on the legacy and foundation of entrepreneurship here, expanding and significantly growing the business's profitability. Within that, there are sub-goals, but we will remain focused on building solid and meaningful relationships with our customers and referral sources, providing the high-touch service and tailored solutions we're known for.
We currently operate in a terrific and dynamic niche: staffing.  This segment is a broad business, but companies constantly hire temporary staff during good and bad economic times or transitions. We have a very carefully cultivated leading reputation in that industry, and in today's competitive environment, having a differentiating niche like this is a huge asset. We can continue to focus on this robust industry and figure out what the adjacencies are and what we can do beyond that, whether it's other niches or products.
In my first year as CEO, I want to get to know the team, the business, and the industry. I've spent the first few months getting to know the team and how we operate, working closely with the Board as the first outside CEO.  Then this fall, there are several industry conferences I'll be attending and getting out to see key clients and referral sources. This learning phase is a really big, important part of this job.   Equally important is working with co-presidents Angela Santi and Paul Mehring on further developing the strategic plan for the next chapter of Access' success.  It will be a good year if I can do all that in the first 12 months.
TSL: You currently serve as a member of SFNet's Data Committee and the Diversity, Equity, and Inclusion Committee. Please explain more about your roles on these Committees and what you've enjoyed about serving on them.
Keating:  Being involved in the committees and Association, in general, has been a tremendous asset for me. I've been a member of SFNet and its predecessor, CFA, for many years. As an industry lender, consultant, and investment banker, it was where I went to find customers.  Since becoming an operator, it has been a critical source of education and peer group exchange.
The Data Committee is an excellent investment because it allows us to examine how we're doing as an industry and identify key trends. As an operator, I get this deep dive every quarter into what's happening in the industry. I get to be behind the numbers, and it challenges me to think about the business I'm responsible for leading and where the economy is going. It's helpful as an operator to be able to benchmark yourself against what's going on.
Diversity, equity, and inclusion are simply the most crucial issues we face as an industry and a company.  While we use these terms now, for me, it comes back to one word that should be universal: equality. It means a lot to me, and I realize it came from my dad, who had biases, but didn't let his biases influence how he dealt with people. If you worked hard, you got to get ahead, it was just that simple to my dad, and it didn't matter where you came from. I think it is critically important that people in leadership positions, as I am, not just support the concept, but be active participants in creating a more just and fair world.
TSL: What can the lending industry expect to see from an economic perspective?
Keating: Some of the larger banks have recently announced significant declines in profits, and they're adding loan loss reserves, so that's a clear sign that those big institutions think that storms are getting close. We've got inflation, rising interest rates, and supply chain disruption. We had this great snap back from COVID, but now that recovery is running out of steam.  All the stimulus money, both in the business community and to consumers, is starting to be burned through, so we have some choppy waters ahead of us. I don't know how bad the weather will be; I just know it's going to be bad weather, and you must prepare for all kinds of weather.
In addition, business lending remains hyper-competitive, and I think it's essential for companies to be able to differentiate themselves. One of the ways to differentiate and what we've done at Access is to make sure we have a strong industry niche to build on. I think that becomes more important as we go forward in the world. Then there is the ever-changing challenge of innovation and adjusting to shifting demographics.  Our country is demographically shifting, so, as a company, if we don't address that, we risk trying to sell to demographics we don't understand. They, in turn, don't understand us.  You want to try to stay in front of that as you go along.
TSL: When you're not busy at Access Capital or with SFNet, what can you be found doing?
Keating:  Eating, ok, that may sound bad.  My wife and I enjoy visiting different neighborhoods and trying different cuisines.  For instance, today is Bastille Day, so we're going out for French food tonight. I enjoy exploring the city, the history, and the museums.  I've been a lifelong history geek, so I'm interested in anything related to that, whether it's TV, books, movies, landmarks, or churches.   I also like to bicycle, read, and listen to podcasts.
Then, like most of America, I think, we binge-watch some TV programs, and if it's one of the FBI series, we watch them all. Ted Lasso is a winner in our house, as is Succession.  My favorite, not always my wife's favorite, is a show on the Science Channel called "What on Earth," which talks about some of the mysteries around the world.
I also take time to "study my craft."  By this, I mean reading/listening to books on leadership, CEO excellence, and personal confidence.  There is always an opportunity to learn and be better at something. I have a plaque in my home office, Ancora Imparo – Still, I am learning.
I make a point every day to stay informed. I read The Wall Street Journal, The New York Times, and The Seattle Times. I read several industry periodicals and daily emails, starting with TSL Express daily. Sprinkle in Inc., Bloomberg, and NPR.  Of course, I also have those days where I just get up and drink coffee and lay about.
Last, we are looking forward to our first Christmas in New York.  Our family is coming in, and we'll try to cram a month's worth of activities into ten days!